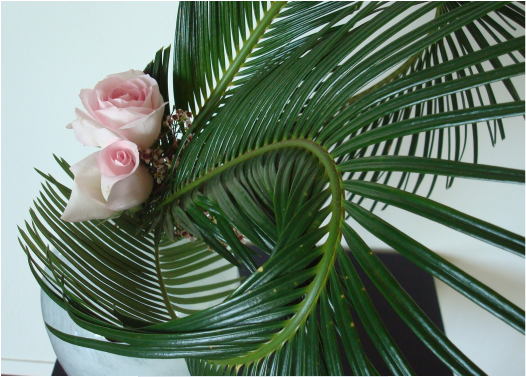 IKEBANA
Japanese Floral Art
---
What is Ikebana

Ikebana is Japanese art of flower arranging with special attention to balance, harmony, and form.

What is Sogetsu

Sogetsu Ikebana can be created anytime, anywhere, by anyone, with any kind of material. Sogetsu Ikebana is the most contemporary of all Ikebana schools, and it is the third largest one worldwide.

History of Sogetsu School of Ikebana
Sogetsu Ikebana can be created anytime, anywhere, by anyone, with any kind of material. That was philosophy of The First Iemoto /headmaster/ Sofu Teshigahara who founded the Sogetsu School of Ikebana in 1927. Sofu Teshigahara followed the principles of traditional Ikebana yet adjusted the style for modern age. With this approach he created space for everyone's sself expression Sofu's modern style was very well received, and his numerous exhibitions, and broadcasting made Sogetsu Ikebana well known. Sofu won many prestigious awards in Japan and soon exhibited and demonstrated his art of Ikebana in Europe and United States of America.
In 1960's his son Hiroshi Teshigahara, Ikebana artist, and film director, founded The Sogetsu Art Center. The goal of the Center was to exhibit more work of Japanese, and foreign artist from different fields of art. Hiroshi became The Third Headmaster in 1980 after early death of his sister Kasumi Teshigahara, The Second Iemoto. Hiroshi's large scale bamboo installations in Japan, and worldwide for exhibitions, and stage installations for performing arts as opera, dance, and film were acclaimed as an unprecedented extension of art beyond the boundary of Ikebana.
In 2001 when Hiroshi Teshigahara died, his daughter Akane Teshigahara, became The Fourth, current Iemoto. Akane created an open air exhibition "Sogetsu Street" in order to promote Sogetsu works among non Ikebana audience. As an dedicated teacher, she opened "Akane's Junior Class" to offer opportunity for children to develop their aesthetic feelings through Ikebana.
Today, Sogetsu school is a third largest Ikebana school worldwide. Sogetsu contemporary ever evolving style creates bridges between individuals, cultures, nations, and continents.


Artist's Biography

Intrigued by fragile beauty of Ikebana, Martina Roethig began the studies of Ikebana Sogetsu School in 1995, when she came to the United States. Prior to that she lived in France, Germany, and Czech Republic where she grew up.

She received her first level teacher certificate in 2000. Today she holds four teacher diplomas, highest to date Jonin Sanyo. Martina is now working towards the fifth level of teaching diploma.

Martina is a member of Sogetsu Teacher Association in Tokyo, Ikebana International San Francisco Chapter, Sogetsu San Jose South Bay Branch, and Ikebana Teachers Federation.

Martina found herself in floral art of Sogetsu, the foremost Ikebana School since its style of Ikebana permits her to combine her experience form different fields of art: sculpture, three dimensional design, and jewelry. Painting, specifically oil on canvas became her latest art passion.

Czech Republic, a country with a rich tradition of glass making is probably a reason behind instinct by which Martina is drawn to the striking boldness of glass containers. Complimenting vibrant colors of glass with her arrangements became her trademark.

Martina Roethig exhibits frequently in South Bay and San Francisco.